Skip Navigation
Website Accessibility
Guitar Amps
Guitars > Guitar Amps
Showing 1 - 40 of results
View Large Image
Austin G-10 Amp
View Large Image
Bustin B-10
View Large Image
Consign - AC - Bugera AC60 Portable 60-Watt, 2-Channel Acoustic Amplifier
Out of Stock
View Large Image
Consign - AC - Marshall MG412B Amplifier
View Large Image
Consign - AC - Peavey Wiggy 100-Watt Guitar Head - Blue
View Large Image
Consign - ES - Fender Frontman 15G Practice Amp
Out of Stock
View Large Image
Consign - ES - RMS Guitar Practice Amplifier
View Large Image
Consign - MF - 1969 Ampeg Portaflex B 15N
View Large Image
Consign - MF - Gibson GA-8T Discoverer Tremolo 60s Amp Blonde
View Large Image
Consign - SA - Fender Hot Rod Deluxe Limited Edition Maple Hardwood
View Large Image
Consignment - MF - Vintage Kustom K100C-8 2x10 Solid State Combo Amplifier
View Large Image
Consignment AD Fender Champion 100 Guitar Amp
CONSIGNMENT JW ROLAND CUBE-100 GUITAR AMP
Out of Stock
View Large Image
Dean DA20 Acoustic Guitar Amp - 20 Watts
Out of Stock
View Large Image
Dean Mean 10 Guitar Amp 10 Watts
Out of Stock
View Large Image
Dean Mean 15 Guitar Amp - 15 Watts
Out of Stock
View Large Image
Fender Mini 65 Twin Amp

From the black control plate and miniature knobs to the silver grille cloth, the Fender Mini '65 Twin Amp replicates the classic look of the full-size Twin amp. Plug in and tap into Fender tone at a fraction of the size!


View Large Image
Fender Mini Deluxe Amp

The Fender Mini Deluxe Amp has a level of detail unmatched by any other mini amplifier. Functional "dogbone" handle, chrome control plate, mini chicken-head knobs. And the Mini Deluxe has Fender tone, too!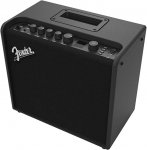 View Large Image
Fender Mustang LT 25 Amplifier
Out of Stock
View Large Image
Kustom TR12L Guitar Amp
View Large Image
Laney Mini STB Lionheart
View Large Image
Laney Mini STB Supergroup Portable Practice Amp
View Large Image
Laney Mini-supergroup
View Large Image
Laney Ministack Lionheart
View Large Image
Marshall CODE25 25 Watt 1 x 10" Guitar Combo Amplifier
Out of Stock
View Large Image
Marshall CODE50 50 Watt 1 x 12" Combo Amplifier
Out of Stock
View Large Image
MARSHALL MG10 GOLD 10W AMP
View Large Image
Marshall MG15G Combo Amplifier
View Large Image
Marshall MG30G Combo Amplifier 30W
View Large Image
P O 70's Fender Pro Reverb Tube Guitar Combo Amp

All original, 70s Fender 2 x 12 Cab fully serviced by Dave's Sound


View Large Image
P O Blackstar Debut 15 W Practice Amp
View Large Image
P O Carvin MTS3200 Combo Tube Amp
View Large Image
P O Crate Practice Amplifier XT15R
Out of Stock
View Large Image
P O Fender Champion 100 120V 2x12 Guitar Amp
Out of Stock
View Large Image
P O Fender Frontman 25R 2-Channel 25-Watt 1x8" Guitar Practice Amp with Reverb
View Large Image
P O Gamma G25 Acoustic Amplifier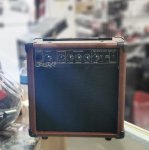 View Large Image
P O Keith Urban 15W Practice Amp
View Large Image
P O Vox AC15 Custom 15-Watt Combo Amplifier
View Large Image
P O Vox Valvetronics AD30VT Amplifier
P.O CRATE GT1200H CABINET HEAD