Skip Navigation
Website Accessibility
Speaker Stands
Stands > Speaker Stands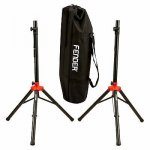 View Large Image
Fender Compact Speaker Stands W/case
Out of Stock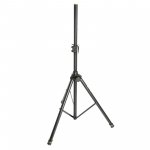 View Large Image
Gravity GWB123SET1B Speaker Stand

Round Cast Iron Base Plate and weight for M 20 poles. Includes adjustable pole.


View Large Image
Stagg Short Amplifier/ Monitor Floor Stand
View Large Image
STagg SMOS-10 Monitor Stand
STRUKTURE SASPK2B
STRUKTURE SPRS2
Out of Stock
STRUKTURE SSS-SMF
STRUKTURE SSS1-BK
View Large Image
Yamaha RKMG12

The Yamaha RK-MG12 Rack-Mount Kit is a two-part metal replacement kit for the MG12 and MG12XU consoles. The two metal rack-mount supports are screwed onto both sides of the console to mount the unit into a rack.